This post may contain affiliate links. Read our disclosure policy
here.
Deals are current as of date and time posted.
When it comes to getting a good night's rest – there are a lot of choices. But with all the artificial ingredients it's not always easy to feel good about taking them. With Sambrosa Nighttime Syrup we offer all the benefits of regular sleep aids but use real honey and 5 organic herbs and aniseed oil combined with a small amount of doxylamine for the rest nature intended! Sambrosa provides not only a good nights rest but relieves nighttime allergy symptoms and cough.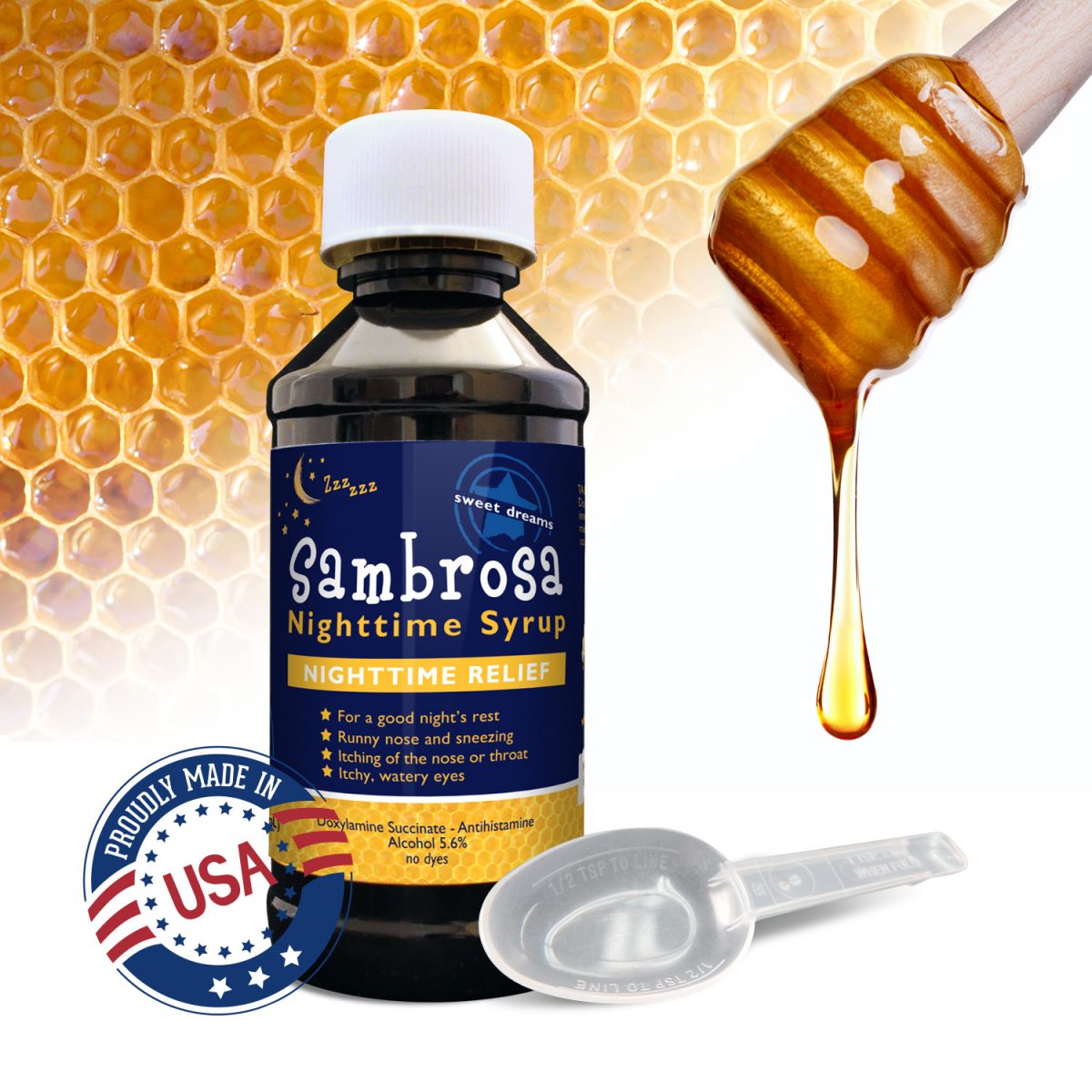 Sambrosa Features:
Sambrosa is Non GMO
Sambrosa has no artificial colors or flavors
Sambrosa contains no high fructose corn syrup
Our goal from the beginning has been to create a healthier alternative to other nighttime allergy relief products today. By combining our real honey base with organic herbs and the active ingredient Doxylamine we have done just that. Sleep is the natural way the body repairs and rebuilds, why use chemicals to fall asleep if you don't have to.
What Our Customers Are Saying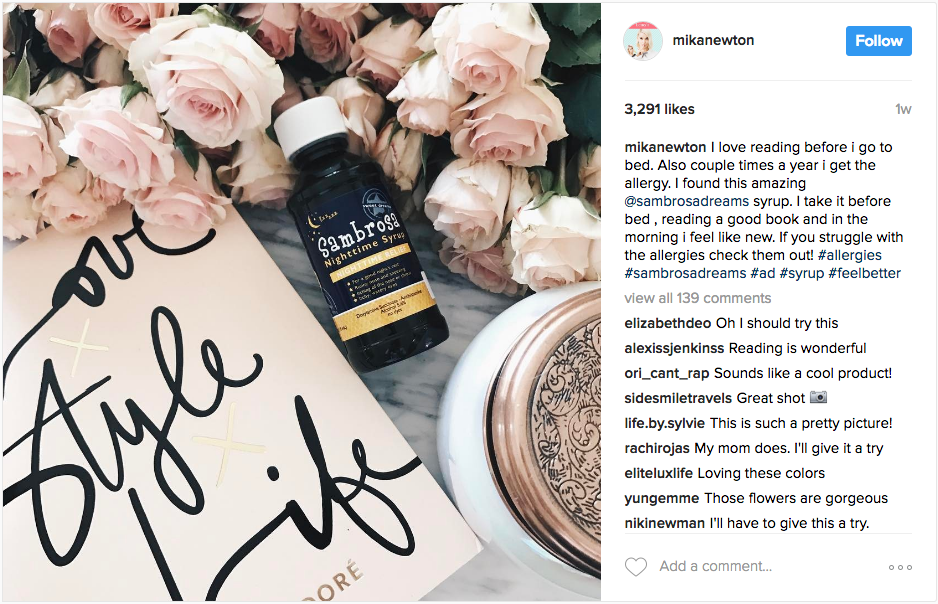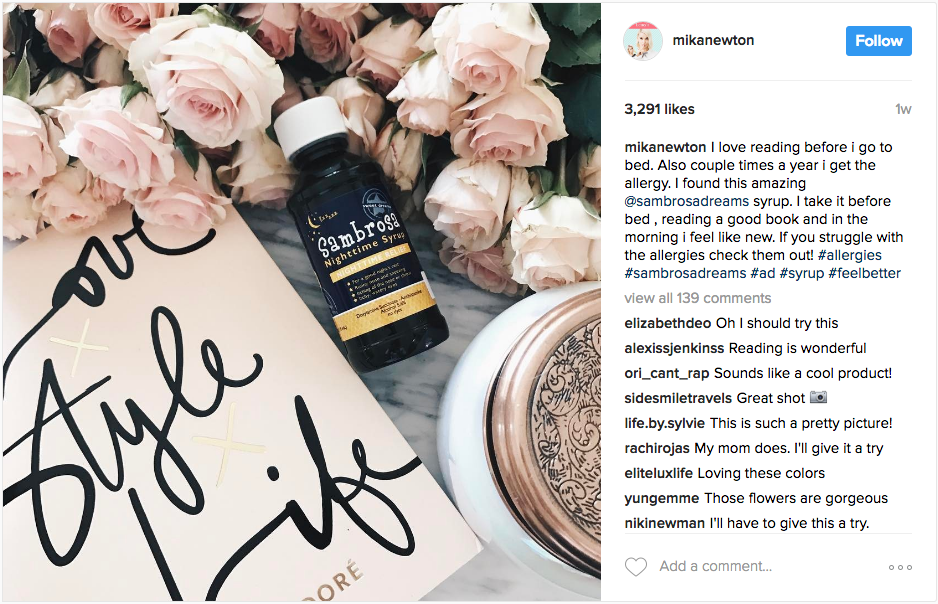 Sambrosa is available in a 4 oz bottle and as a convenient 3 night travel pack.
Ingredients
Doxylamine is an antihistamine. It is used for allergy relief such as hay fever as well as the common cold. It can be used by itself as a short-term sedative.
Honey is quite amazing in its taste and in its countless health benefits; it is an antibacterial, anti-inflammatory and contains antioxidants.
Aniseed Oil offers many curative properties including as an antiseptic, expectorant, and sedative.
Passionflower is used by the ancient Aztecs as a sedative and pain reliever. Also used today for its ability help to reduce stress and anxiety.
Thyme helps to calm a cough and has been used to sooth nerves and in the treatment of respiratory ailments.
California Poppy is used as a remedy to reduce stress, a useful herb for the nervous system.
Tracaganth is typically is used as an essential binding agent, a natural alternative to synthetic agents.
Eucalyptus is known for its aroma, but also for its pharmaceutical, and antiseptic uses. Eucalyptus oil may also have antibacterial, anti-inflammatory and analgesic properties.
Sambrosa Giveaway!
Sambrosa Care is offering an Amazon giveaway of 50 bottles (4oz Sambrosa Nighttime Relief) for Bloggy Moms readers!*
Sambrosa Nighttime Relief Giveaway
Unfortunately Amazon doesn't allow a 100% discount so you will receive the next best thing: 99% off. 50 winners will receive a code to grab their bottle of Sambrosa Nighttime Relief 4oz.
*1 winner per household. Only available in USA. Free shipping only applies to Amazon Prime Members. Non-Prime orders will be charged a small shipping fee from Amazon.com.
Find Sambrosa on Amazon: amazon.com/Sambrosa-Nighttime-Medicine-Doxylamine-Succinate/dp/B00JS6AE5I
Sambrosa site: sambrosadreams.com/buynow
Content may contain affiliate links. This means that, at no additional cost to you, we may earn a little somethin' somethin' when you use the link to make a purchase.
Learn more here.
Would you like Bloggy Moms to feature your brand?
Contact us here.