This post may contain affiliate links. Read our disclosure policy
here.
Deals are current as of date and time posted.
Love the creamy goodness of an Iced White Chocolate Mocha Coffee from Starbucks – but not the price? Making your own at home is simple and oh-so inexpensive! Don't worry – no fancy machines needed!
Here I'll detail how you can make your own Starbucks Iced White Chocolate Mocha at home! The measurements below are approximate based on a Grande size drink. Adjust accordingly if you'll be making a different size.
What You'll Need:
If you have an espresso machine, that's great! If you don't, no worries. Though I really want one, I currently do not own one and everything still works out deliciously.
How To:
Grab your cute iced coffee, coffee cup and fill it with ice – almost 3/4ths of the way full. Keep in mind that some of the ice is going to melt.
Add 4 tablespoons of white chocolate sauce to your cup of ice. I think adding this before the milk helps the chocolate to make its way down through the drink much better than when done after adding milk.
Add one cup of milk to ice and chocolate. If your cup isn't large enough for ice and this amount of milk (and then coffee) – adjust your measurements or grab a larger cup. I like this one.
If you have an espresso machine, make two shots of espresso. If you do not have an espresso machine then make two ounces of strongly brewed coffee. For this, I double the amount of coffee grounds that I would use for a regular cup of coffee in my single serve maker.
Pour your espresso/coffee into the ice/milk/chocolate mixture – and mix together.
Fun Items for this Recipe: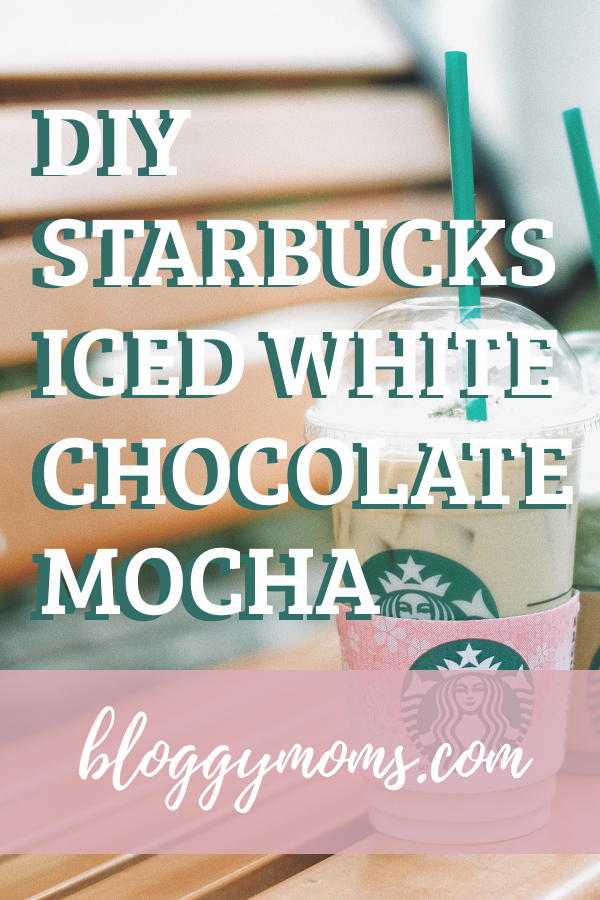 Content may contain affiliate links. This means that, at no additional cost to you, we may earn a little somethin' somethin' when you use the link to make a purchase.
Learn more here.
Would you like Bloggy Moms to feature your brand?
Contact us here.