This post may contain affiliate links. Read our disclosure policy
here.
Deals are current as of date and time posted.
Heading into the fall and winter seasons – I typically make sure that our family has everything we need as far as medicines, vitamins, and medical devices. This year, you know what I found? A thermometer that did not work. And sure, that could have been (probably was) our own fault for not properly taking care of that one. I will do a much better job this time!
A few weeks later, I connected with Elepho and was introduced to their Family Duo gift pack which consists of an eTherm infrared ear & forehead thermometer and eCheck fingertip pulse oximeter monitor.
Quick note: Elepho products are 25% from December 11-18, 2020!
eTherm Infrared Ear & Forehead Thermometer
eTherm is a complete Family Thermometer providing accurate temperature measurements in just 1 second in either Fahrenheit or Celsius measurement units. An ear thermometer and forehead thermometer using infrared technology in one, measurements can be taken from the forehead or ear canal for maximum flexibility.
So what I love the most about the eTherm infrared thermometer is that I have the option of using on the forehead or in the ear canal. With our prior thermometer, we only had the forehead option – but sometimes I just felt like I needed a different option. I can now quickly pop the cap on or off depending on the area I need to take our temperature.
I also enjoy that the reading is extremely fast. The eTherm provides fast and accurate readings from 89.6ºF – 109.2 ºF (32ºC -42.9 ºC ). It provides a precise body temperature in just 1 sec and automatically shuts down to save battery life.
Elepho has a quality line of 3-ply and N95 masks at great prices!
Using eTherm
Forehead: With the cap on, lightly touch the probe on the forehead then press & release the button.
Ear: Remove the thermometer cap from the unit. Gently position the thermometer in the ear canal and press the button.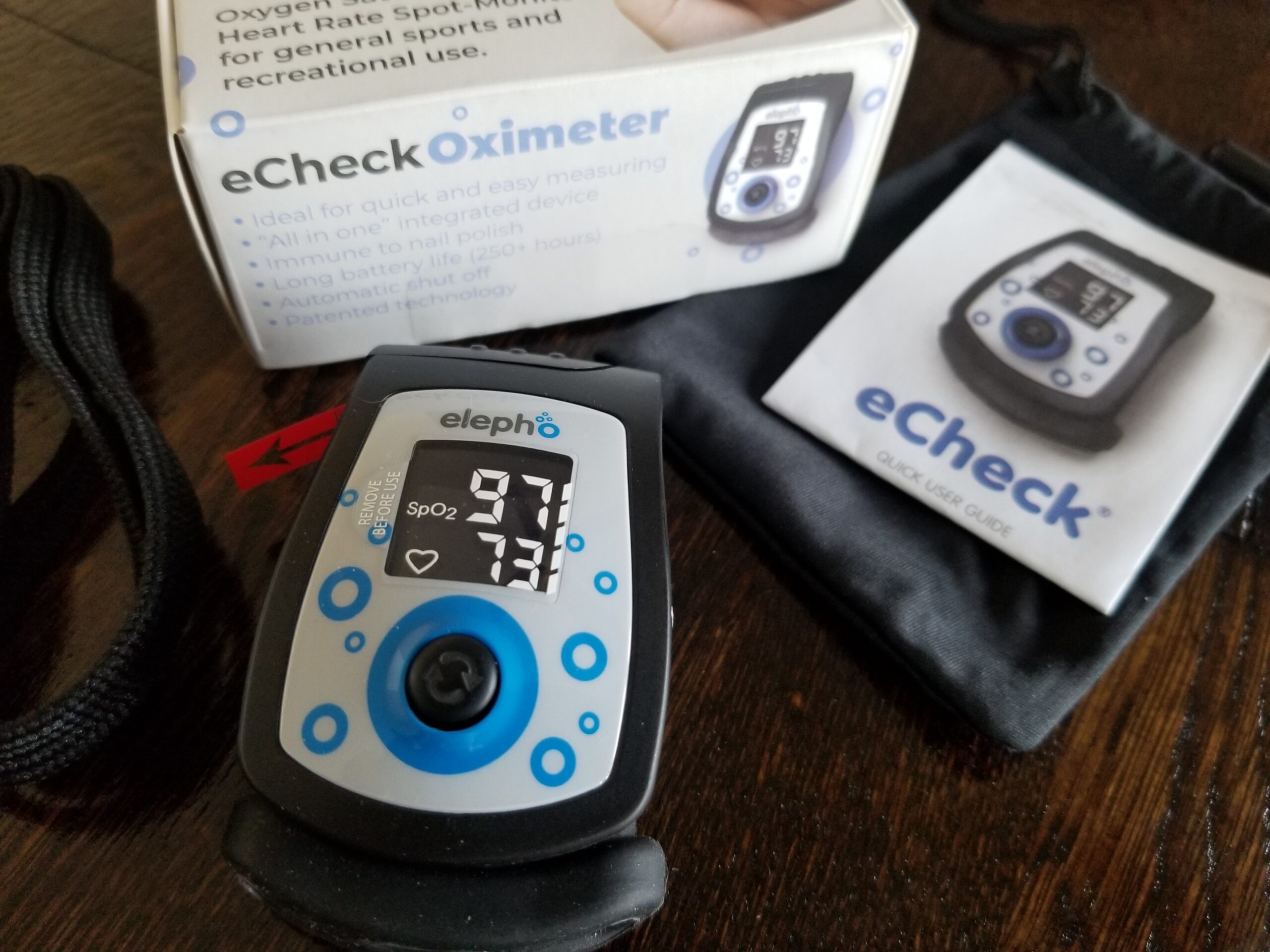 eCheck Fingertip Pulse Oximeter
Though I suffer from allergy-induced asthma, have an inhaler, and try to make sure I'm aware of and keeping an eye on my oxygen intake — I had not even thought to own an Oximeter.
This is probably a great item to have on hand to keep an eye on any concerns with our current world situation. I, personally, am appreciative to have this available to me as we monitor any concerns we may have.
Ideal for sufferers of asthma, COPD and diabetes, of all ages, the Elepho eCheck pulse oximeter uses advanced reflective pulse oximetry optical technology to measure your pulse and check how much oxygen can be found in your blood.
Place your finger in the device and turn it on. A large LCD display gives you precise results in just a few seconds. eCheck makes it simple for anyone to take a measurement day or night.
With the eCheck Fingertip Pulse Oximeter, you cansave time and money, by eliminating unnecessary trips to the doctor or clinic.
Using eCheck Fingertip Pulse Oximeter
1: Place the eCheck device on any finger.
2: Press the button and in a few seconds, an accurate measurement will appear on the LCD display.
3: Press the button a second time to rotate the display read-out for easy viewing of the recordings. The device shuts off automatically
eCheck Fingertip Pulse Oximeter takes heart rate and oxygen saturation (SpO2) measurements in seconds after placement on a finger. It provides accurate readings even through nail polish, noise, movement and vibrations.
Content may contain affiliate links. This means that, at no additional cost to you, we may earn a little somethin' somethin' when you use the link to make a purchase.
Learn more here.
Would you like Bloggy Moms to feature your brand?
Contact us here.