This post may contain affiliate links. Read our disclosure policy
here.
Deals are current as of date and time posted.
Skirts are basic attire in India. The ethnic look is different to other fashion trends because most times, women wear skirts and dresses instead of pants. When picking out a skirt, make sure it is not too short so that you do not disrespect the culture. You can wear your skirt with bottoms, depending on skirt and how you want the end-product to appear. Short skirts are too revealing, you need some bottoms to cover up your legs
Here are some of the famous ethnic skirts and how you can style them.
Indian ghagra skirt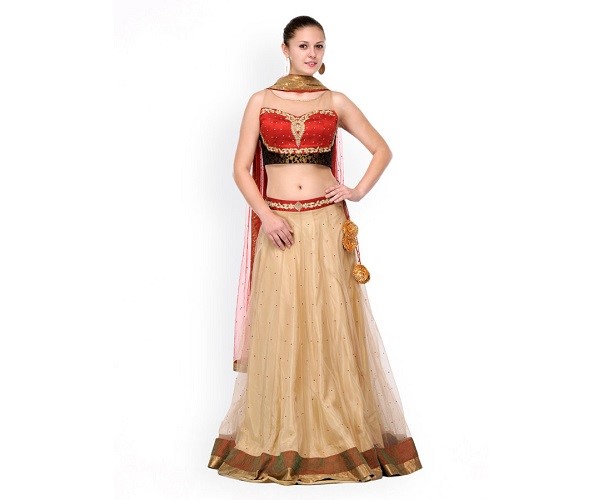 The ghagra skirt is also known as the lehenga. The lehenga is famously known to be paired with a top called the choli. This look is traditional but has been in the Indian fashion for centuries.  Initially, it was for the simple human but now even a bride can wear it to their wedding depending on the style of the lehenga.  The lehenga is a long maxi skirt that runs from the waist to the floor. The choli can be made of the same material to form a complete suit, or you can mix and match a lehenga with a choli or another top. Traditional silk lehenga is expensive, back in the day it was worn by royalties and the rich who could afford silk.
Lehenga/ghagra looks
The lehenga choli is simple and easy to style. You can wear a choli with a crop top and throw on a jacket or dupatta scarf.  This is a no-brainer. When you buy a lehenga choli it comes with a matching choli like a suit, if you don't like matching you can get a different choli top and mix and match
You can wear a ghagra with a long or medium sized kurti for a traditional fusion. This look is old school but classy and trendy. Buy a bold colored a-line cut with a front slit and a digital print from Stylecaret  and pair it with a plain or print lehenga for a modern look you can wear casually.
Wrap around skirts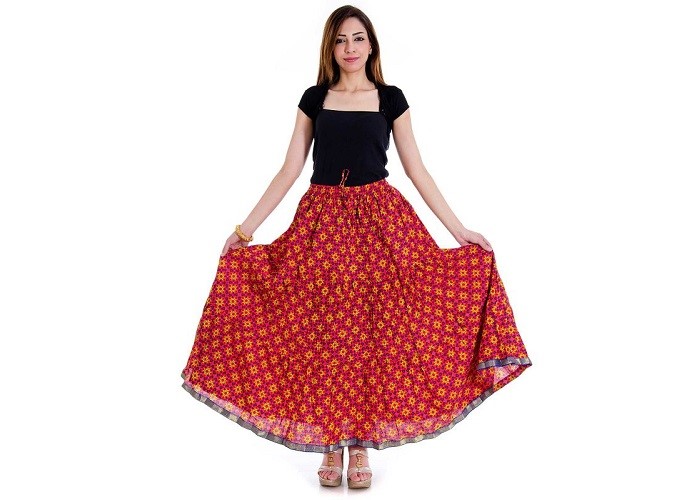 Initially, wrap around skirts reached an ankle length but now designers create them in many shapes, sizes and lengths. A wrap skirt is worn at the waist and tied through a loop. You can secure it with a belt for more style.  Wrap around skirts are fashionable and beautiful. They are popular among middle aged women. Most wrap around skirts are made of a cotton fabric and can be adjusted around the waist to fit many figures
Here is how you can style the wrap around skirt
You can wear a wrap skirt with a choli and kurti jacket for a simple formal wear to work and business meetings. Make sure the skirt is midi or longer so you can keep the look business related. Tied up your hair and complete this look with a pair of block heels.
For a casual date, you can wear the wrap skirt with an off shoulder top. Keep this outfit in the same color family or give it a monochromatic look to make it more stylish. With an off shoulder, you can wear heavy jewellery to complement the look. Complete this look with a pair of doll shoes, sandals or some pompoms.
For festivals, you can wear a silk maxi wrap skirt with a full sleeved top. Make the outfit fun by wearing fancy sleeves or a daring neckline. This look is indo-western, fun and sophisticated.
Denim skirts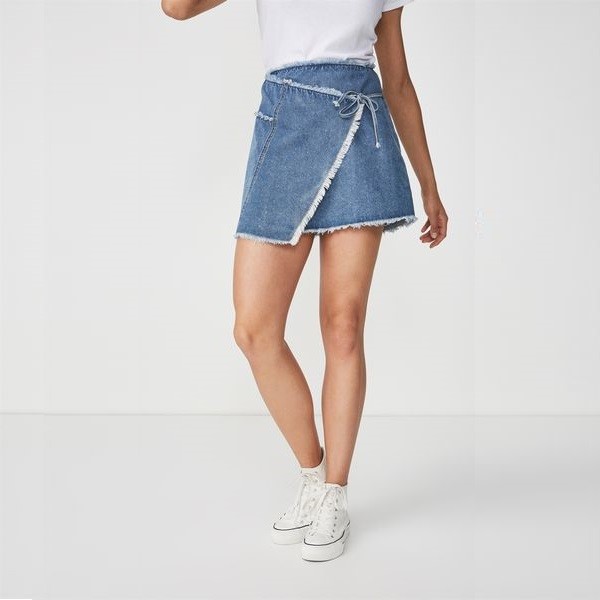 Denim skirts have a huge liking in India.  They are comfortable, easy to style and look good with different tops. Denim is a western material but designers have infused it into ethnic designs. You can see it in kurti, lehenga and choli top.  Denim is preferred because it is easy to handle and can last long. Denim skirts come in all shapes and sizes. You can only wear denim to casual events; it is informal and unacceptable to festivals and cultural events. Denim clothes are mostly worn by the youth buy you can find middle age styles here and there
How to wear denim skirts
Denim on denim id popular for jeans and jackets but it can work on skirts too. If you have an a-line denim skirt, you can pair it with a choli or crop top and a bolero denim jacket to complete the look. Ensure your denim skirt is high waisted to achieve that 90's look. This look is modern and stylish and gives off a chic vibe.
For a casual work meeting, you can pair a pencil denim skirt and a beautiful blouse with fancy sleeves. Choose a bright colored blouse to bring out the look. Complete it with dark pompom s or heals and a matching coat.
Gypsy/banjara skirts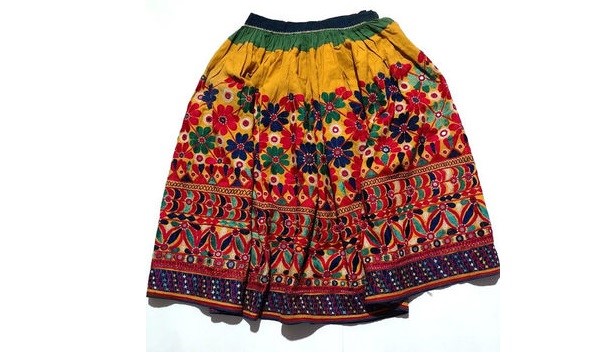 Gypsy skirt, also known as the hippie, peasant and broomstick skirt has its origins from the India. This skirt design has spread through to western countries and Europe because of its beauty and style. It is the ultimate skirt if you want to achieve a bohemian street style look. The skirt is comfortable, stylish and goes with many types of attire. The design is long, flowy and circular at the bottom half. This skirt is popular among the youth. It comes in many colors, shapes and sizes.  The basic shapes of most gypsy skirts are a-line and circular, and they have tiers without and with ruffles.
How can you style this skirt?
A gypsy skirt with ruffles can be paired with a colored choli and covered with a dupatta to give you a traditional look like the one of a lehenga choli. You can wear this to school and social events.
For a bohemian look, pair a printed gypsy skirt with a printed choli and accessorise with block shoes and a sheer scarf. This look is comfortable for a day out in the sun. Tie your hair in a bun and add some sunglasses to stand out in a crowd.
Final word
Styling a skirt is easy. The important thing is to make sure it fits your figure, body type and the occasion.
Content may contain affiliate links. This means that, at no additional cost to you, we may earn a little somethin' somethin' when you use the link to make a purchase.
Learn more here.
Would you like Bloggy Moms to feature your brand?
Contact us here.