This post may contain affiliate links. Read our disclosure policy
here.
Deals are current as of date and time posted.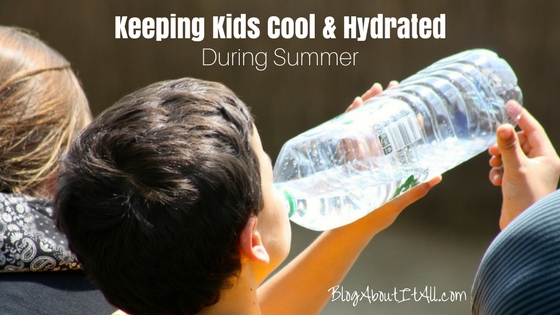 I was on Fox 40 News in the morning to share about Keeping Kids Cool & Hydrated you can view the segment on my blog.
This past week in Sacramento we had a week of over 100 degree temperatures. It is important to stay hydrated all the time but I know during summer with swimming, summer camps, vacation or beach trips it is easy to forget the importance of staying hydrated. We get caught up in swimming and having fun that we don't remember the last time we drank water. Even if you are just hanging out at home with the kids playing in the backyard jumping on the trampoline these tips can help you stay hydrated.
Although summer is a time of fun, be mindful of summer safety. Just last week we went to the beach with friends and since it was breezy and overcast I did not even think about putting on sunscreen. We ended up with sunburn. It is important to remember to reapply sunscreen throughout the day as well.
Here are some suggestions to help keep your family hydrated.
Bring water bottles. Use refillable water bottles if you are at home or a place where you can refill.
Freeze water bottles to use as ice packs instead of additional ice packs.
Make fun ice cubes out of silicone molds to make drinking water fun for little ones.
Drink Gatorade or drinks with electrolytes.
Take drink packets of Gatorade or Propel to cut back on the number of bottles you have to carry.
Drink early. By the time you get thirsty, you may already be dehydrated.
Drink enough. According to the American Academy of Pediatrics, a child of about 88 pounds should drink 5 ounces of cold water every 20 minutes. Children and teens around 132 pounds should drink 9 ounces of cold water every 20 minutes. One ounce is equal to two kid-size gulps.
5-8 years old – 5 Glasses or 1 Liter
9-12 years old – 7 Glasses 1.5 Liters
13+ years – 10 glasses 2 Liters
Drink at moderate temperature. If it is too cold, although at first it tastes refreshing the extreme cold makes it difficult to drink an adequate amount.
What to avoid: Caffeinated beverages (sodas, iced tea). Caffeine can cause you to lose more fluid and become dehydrated even quicker.
Signs of dehydration: Headache, Nausea/vomiting, overly tired, Dizziness/passes out.
SNACK IDEAS TO HELP STAY COOL
My kids can power through Otter Pops, so here are some other ideas that I find keep them from coming in for that 3rd and 4th Otter Pop. These are all easy snacks that the kids can help make too.
Frozen Yogurt. You can purchase Gogurts but you can also freeze yogurt in those silicone molds, it's fun and easy. You can also dip fruit in yogurt and freeze it.
Frozen Grapes. My boys love snacking on frozen grapes.
Frozen Fruit Kabobs. My kids love eating anything on a stick. With the fruit being frozen I find the kids eat it slower and it fills them up. Place slices of fruit on a skewer and place on a cookie sheet line with parchment paper.
Freeze bananas and turn it into banana ice cream! No other ingredients necessary just frozen bananas. You could add in things if you like (Nutella, Peanut Butter, Mini Chocolate Chips). Slice the banana, put slices on a cookie sheet lined with parchment paper. Once frozen blend in a Ninja blender or Food Processor. Then place back in the freezer to firm back up.
Homemade Smoothies. My boys love coming up with smoothie ideas and I love sneaking in spinach when I can with frozen pineapple they don't even taste it.
Homemade Popsicle's. You can use frozen fruits blended with apple juice. You can use yogurt and fruits mixed in. My boys love the juice from canned fruit with a little apple juice in Popsicle's. There are a ton of ideas on Pinterest for homemade Popsicle's.
Sprite & Gummy Bear Popsicle's. This is not the healthiest idea, but fun for at least once during summer. Fill a Popsicle mold with Sprite to the fill line and drop in 5-8 gummy bears. The kids love them.
HELPFUL SUMMER TIPS
What to bring to the pool, beach or lake: Sunscreen, sunglasses, hat, towel, life-jacket.
Goggles – if you are swimming frequently, goggles help your eyes from getting irritated.
Water Shoes – when the temperature is over 100 degrees the cement can be scorching. Water shoes can also help protect your feet when at the lake or beach.
First Aid Kit – most public pools or swim parks have first aid kits, but it is always a great idea to carry one just in case.
Baby Powder – Have you heard of the beach hack of using baby powder to help remove sand? We tried it last week at the beach and it WORKS! I wish I would have taken video. The boys had sand all over their hands and in between their fingers, we poured a little baby powder in their hands they rubbed together and the sand came right off. The baby powder also helped repel the sand until they were wet again.
Pop-Up or Umbrella – If you are headed to the beach or lake for the day it is a great idea to take a pop-up tent or umbrella to help stay out of the sun for at least part of the day.
I love summer and spending the summer days poolside, at the beach or lake. I hope you find these tips helpful even for everyday summer activities like playing at the park, hanging out in the backyard or while out tossing the football around. Remember to stay hydrated and have some yummy snacks to help you stay cool.
Thank you for reading if you've enjoyed the content you've read above please share with your friends. BlogAboutItAll.com.
Content may contain affiliate links. This means that, at no additional cost to you, we may earn a little somethin' somethin' when you use the link to make a purchase.
Learn more here.
Would you like Bloggy Moms to feature your brand?
Contact us here.