This post may contain affiliate links. Read our disclosure policy
here.
Deals are current as of date and time posted.
Welcome to our Fave Reads! If you're a mom of multiples or soon to be – you'll want to check out our latest Fave Read, Twin-to-Twin by Crystal Duffy.
One moment Crystal was sitting at a candlelight dinner in Paris with her husband, the next she was back home in Houston, sitting in her Ob-Gyn's office panicked that she was having a third miscarriage. That wasn't the news he delivered. Instead, she found out she was pregnant with twins!
But, only twenty-three weeks into her pregnancy, she finds out that her twins have a life-threatening condition called Twin-to-Twin Transfusion Syndrome. That means that Baby B is transfusing blood (disproportionately) to Baby A.
With the risk of losing both babies so high, Crystal is sent to the 5th floor of the Houston Medical Center for the duration of her pregnancy. Sitting alone in her hospital bed, Crystal wonders how she is going to pass the next few weeks, away from her husband and precious daughter. She soon finds out as she embarks on an emotional roller coaster―from late night emergency ultrasounds to hospital baby blessings, sprinkled with comic relief from nurses and hospital staff.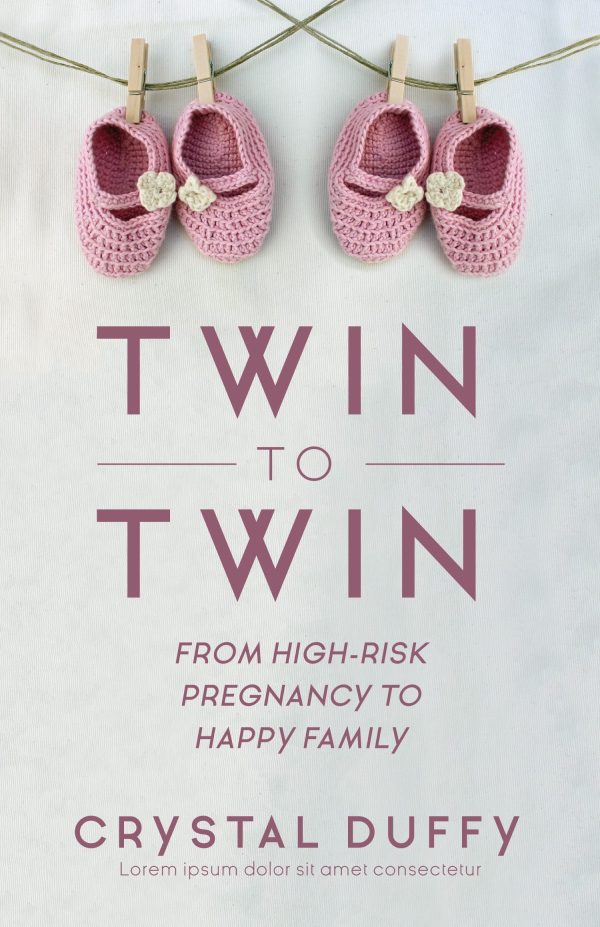 Twin-to-Twin is a raw and inspirational story filled with tenderness, vulnerability, and humor. It chronicles the wildest, most terrifying and challenging year of Crystal's life, which is also the most beautiful and eye-opening. Her hope is that it will bring strength to other women dealing with their own personal trials and tragedies, so they can also triumph.
What others are saying:
"Anyone in the field of fetal medicine, or any field of medicine for that matter, should consider reading Crystal's book. It is an uninhibited disclosure of a mother's experience with a life-threatening pregnancy complication. Not only does it show the sometimes yawning chasm between what doctors counsel and what patients hear, but Crystal reveals it with clarity, wit and empathy. Her story displays the extraordinary courage of a pregnant mother and the enduring compassion, talent and wisdom of her team of providers. It is an uplifting example of what humans do best: care for each other. This book is Crystal's way of caring by sharing her experience so that others can benefit." —Stephen P. Emery, MD. Director, Center for Innovative Fetal Intervention, Magee-Womens Hospital of the University of Pittsburgh Medical Center (UPMC)
"TTTS is one of the least discussed issues in books about multiples – because it IS scary. Duffy dives bravely into her new frightening reality and emerges on the other side with a message of hope and optimism. Her must-read story is one of courage, honesty, family, and above all else, love." —Megan Woolsey and Alison Lee, Editors of Multiples Illuminated: A Collection of Stories and Advice from Parents of Twins, Triplets and More
Find Twin-to-Twin here.
Content may contain affiliate links. This means that, at no additional cost to you, we may earn a little somethin' somethin' when you use the link to make a purchase.
Learn more here.
Would you like Bloggy Moms to feature your brand?
Contact us here.