This post may contain affiliate links. Read our disclosure policy
here.
Deals are current as of date and time posted.
The better part of this year has been a battle with an odd pain in my foot. Up near my big toe, but seemingly just underneath the joint – I have had the worst pain. It's not always there, but when it hits – the sharp pain is miserable.
At first, I thought that I had severely stubbed my toe. I was certain there was a fracture. One that I could, hopefully, allow to heal on its own. But after months of increasing pain – I knew it was time to head to the doctor's office.
After a few tests and poking around – it was determined that it was the sesamoid area of my foot that was giving me so much trouble. Now, I won't remember all of the super-fancy foot terminologies that my podiatrist used – so bare with me.
It was decided that I would, first, try a special shoe and at the absolute worst – there could be surgery. I'm extremely stubborn when it comes to even going to the doctor and then doing what they want. But I did the shoe – and it helped a bit. I was at least able to stop walking with a limp after a few weeks. But the pain was still slightly there. But it was enough of a healing that we discontinued my visits and I was told to order a new pair of running shoes – along with super-duper fancy inserts.
I did not order the super-duper fancy inserts. I did, however, order a pair of running shoes that would hopefully help with the way in which all of the bones in my foot drop as it hits the ground. Brooks running shoes are well-established when it comes to developing technology to support feet on all terrains. As what Lilly Harvey of ShoeAdviser have mentioned: "If you want to make the most out of your Brooks Running shoes, then you need to get the right size.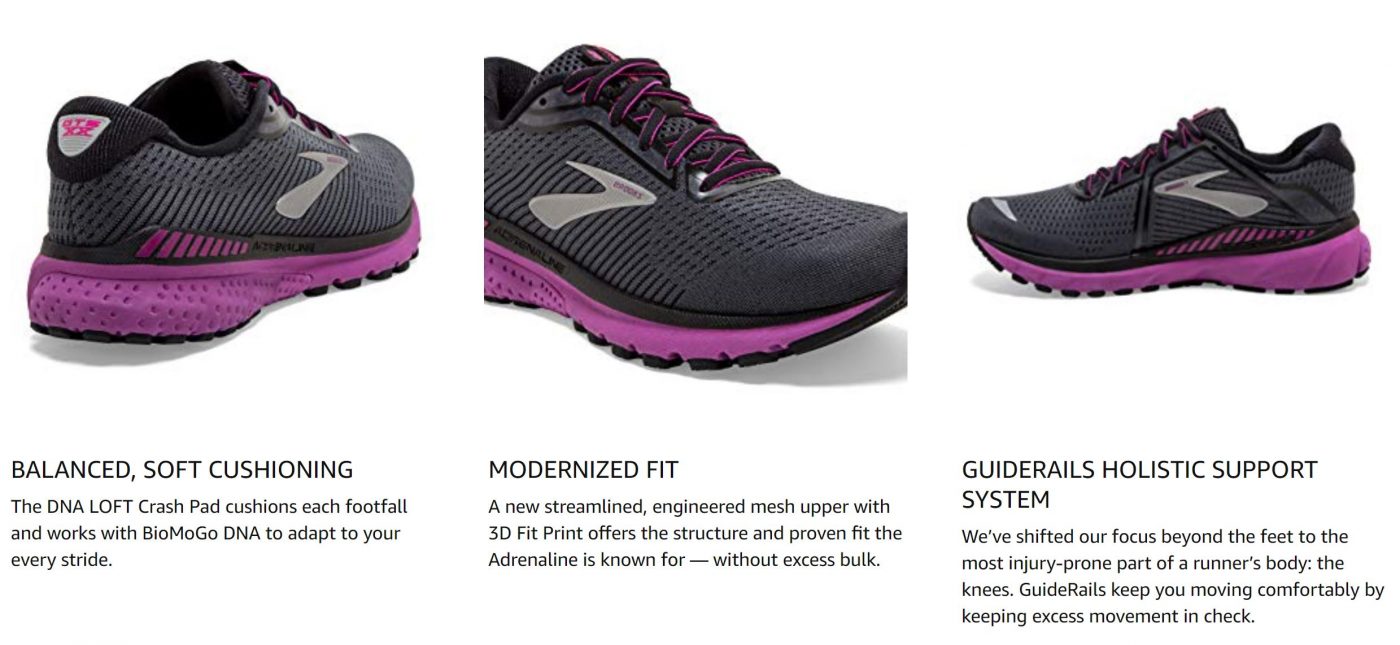 After much research, I found that a lot of people recommended the
Brooks Women's Adrenaline GTS
for sesamoid issues. Note that I said people, not physicians. (Though my podiatrist did recommend Brooks in general.) The wide toe box and low drop seemed like they may work well for me. I also read to order a half-size up. So, I did that as well.
My first run in the newest generation Brooks Women's Adrenaline GTS was substantially different and less painful than my previous shoes. I still felt like I need to force my foot to fall slightly differently than my typical style of running. But I continued on and saw a lot of improvement over runs with other styles and brands of running shoes.
Brooks Women's Adrenaline GTS 20 details:
Synthetic-and-mesh
THIS SHOE IS FOR: Runners who need a perfect blend of support, cushion, flexibility, and reliability. The modernized, streamlined design satisfies runners who crave a low-profile look.
SUPPORT AND CUSHION: Provides just the right amount of stability and support, great for overpronation while providing high energizing cushioning. Ideal for road running, cross-training, the gym or wherever you might want to take them! Predecessor: Adrenaline GTS 19
BALANCED, SOFT CUSHIONING: The DNA LOFT Crash Pad cushions each footfall and works with BioMoGo DNA to adapt to your every stride.
MODERNIZED FIT: A new streamlined, engineered mesh upper with 3D Fit Print offers the structure and proven fit the Adrenaline is known for-without excess bulk.
GUIDE RAILS HOLISTIC SUPPORT SYSTEM: We've shifted our focus beyond the feet to the most injury-prone part of a runner's body: the knees. GuideRails keep you moving comfortably by keeping excess movement in check.
The final difference was when I ordered a set of inserts to use in conjunction with the Brooks Women's Adrenaline GTS. For me, this combination gave me a pain-free run for the first time in 6 months. In fact, the run was so amazingly smooth that it made me nervous. I wasn't used to not needing to manage pain while I tried to get a run in.
Could this help with your sesamoiditis issue? Maybe. But be sure to have visited a physician before you make any big decisions. Sure, my podiatrist wanted me to order a more expensive and custom-made orthotic insert – but this has worked well for me.
What others are saying:
"I love the comfort of these shoes. I have planters fasciitis and an issue with my knee. These shoes have the support I need."
"I am not a runner but purchased these shoes after purchasing the GTS19 on recommendation from my physical therapist. I have rheumatoid arthritis, and my feet often hurt. I have bunions, very flat feet and tend to pronate. I really liked the GTS 19 and wanted another pair so I could alternate shoes daily. I was a little hesitant to buy the GTS 20s style due to some negative reviews, however, I am very pleased with the fit and comfort of the GTS 20 style. They are just as supportive as the 19s, they have a nice wide toebox is I also have very wide feet. There is no pinching or slipping and the guide rails prevent pronation when I walk. There is a nice cushion but not so soft that it takes away the support. They are by far the most comfortable shoes I have ever owned and wish I had been introduced to them years ago. The only issue I have is since I wear an extra-wide shoe there are very few colors that come in my size. I would buy more Brooks shoes if there were more colors available in my size. You don't have to be an athlete to wear these shoes. I am definitely not an athlete and just wear them for comfort. You will be very happy with the comfort and support of these shoes. I wear them all day and have much less arthritic pain with these shoes than with any other shoe I have purchased over the years."
Read more reviews here.
What running shoes have you found helps with sesamoiditis issues?
Content may contain affiliate links. This means that, at no additional cost to you, we may earn a little somethin' somethin' when you use the link to make a purchase.
Learn more here.
Would you like Bloggy Moms to feature your brand?
Contact us here.