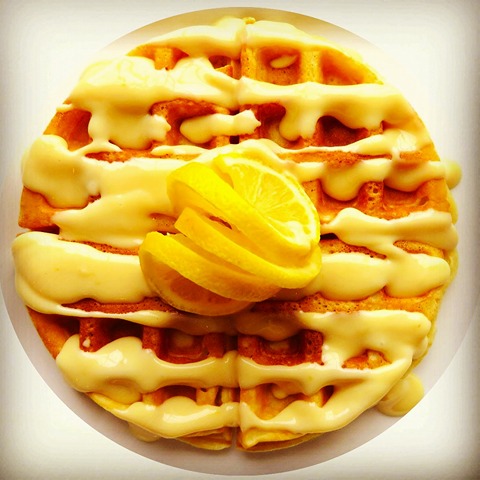 Content may contain affiliate or sponsored content. Read disclosure
here
.
Who is hungry for waffles? How about a waffle topped with a bright and citrusy, sweet and zesty lemon glaze? Sounds amazing, right?
This light and fresh lemon glaze recipe is simple, quick, and easy! Your family will love a new twist on waffles and will definitely ask for more!
All you need for the lemon glaze is 1 can of condensed milk, lemon juice from 2 lemons, and lemon zest! That's it! Simple as that! The trick is in the lemon juice. As you add lemon juice to the condensed milk, it will thicken. Continuing to stir, it turns into a beautiful, creamy glaze.
It's unbelievable on top of waffles, pancakes, cakes, and even fruit salads!
Hope you enjoy this recipe! Here's a video on how to make it:
Here's the recipe:
Iced Lemon Waffle
Serving: 3-4 (based on size) Total Time: 25min
Prep Time: 10min Cook Time: 15min
Ingredients:
Waffles
2 cups Krusteaz Buttermilk Pancake Mix
1 1/2 cups cold water
1 egg
2 tbsp vegetable oil
Lemon Glaze
lemon juice from 2 lemons (drained, without seeds)
1 tsp of lemon zest
1 can of condensed milk
1 lemon to use to garnish
Cooking Instructions:
Lemon Glaze
*Prepare lemon glaze first, before cooking waffles
Add 1 can of condensed milk into a bowl
Add lemon juice slowly into the bowl with condensed milk
Stir until it starts to thicken
Lemon juice will thicken the condensed milk and turn into a glaze
Add the lemon zest and stir
Waffles
Blend all waffle ingredients together in a bowl (pancake mix, water, egg, and oil)
Grease waffle iron with vegetable oil (*tip: use a cooking brush to brush oil on the waffle iron)
Preheat waffle iron
Cook waffles until golden brown
Set waffles onto a plate
Drizzle lemon glaze on top of waffles and garnish with lemon (see video to learn how to make an easy lemon garnish)
*Tip: Squeeze fresh lemon juice from the garnish over the glaze just before eating for an extra pop!
Eat and enjoy! 😋