This post may contain affiliate links. Read our disclosure policy
here.
Deals are current as of date and time posted.
Any crafty mom like myself knows that it can be an expensive hobby to have. For every project we do, I try to make it as inexpensive as possible, but still, have a lasting final product once I'm done. We recently signed up for a Kids Fun Run and decided to register as a team. We made a team name and everything. But then I thought, how are we going to stand out as a team? I decided we would make our own t-shirts. I'd buy fabric spray paint and some plain T's and get to work.
In comes fabric spray paint and cheap plain t-shirts. I decided to make our own shirts and out we went shopping for supplies. My excitement got cut short though when I saw how much it costs to buy one bottle of fabric spray paint. At about $7 each color at Walmart, it would be cheaper for us to use a t-shirt design service. Which isn't what I was going for so I dug around in my craft bucket a bit. (Okay, it's more like a whole closet because I can't have just one hobby.)
How to make fabric spray paint
As any painter knows, there are different mediums you can purchase for different projects. I just so happened to find Textile Medium in my research, which works perfectly for this project. Textile Medium is a medium that you can mix with your acrylic paint, which allows it to become more permanent on fabrics! What?!? How awesome is that? I think it is because it means I can by my Apple Barrel Acrylic in my choice color and spend a couple extra dollars on Textile Medium (I prefer Delta Textile Medium, and the 8 oz bottle will last quite a while) and make my own fabric paint. This method is much cheaper than buying fabric paint.
How do you make fabric spray paint?
The biggest thing to keep in mind when making fabric spray paint and to make it sprayable while still having plenty of color – is to use 1 part textile medium to 1 part paint to 4 parts water.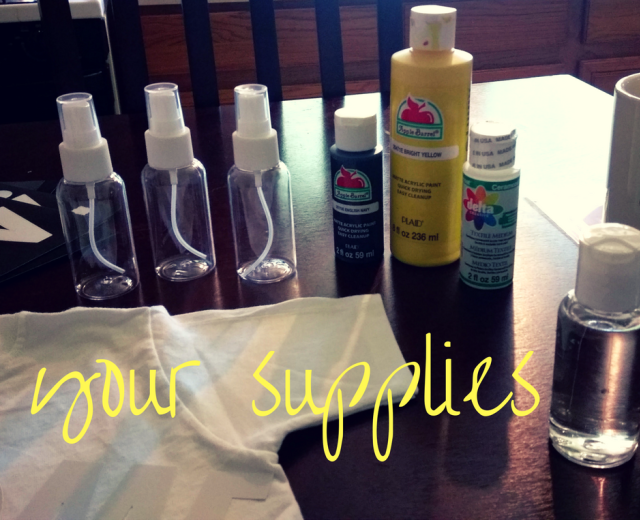 DIY fabric spray paint supplies
Acrylic Paint
Textile Medium
Water (tap is just fine)
Sprayer Bottle (we got ours at Dollar Tree and paid $1 for a 3 pack of travel bottles but you can get 12 on Amazon for $8)
Plain Shirt or another item you plan on decorating
How to Make the Fabric Spray Paint
The key here is the water, paint, medium ratio. I mixed the paint and textile medium according to the instructions on the textile medium bottle. Which is 2 parts paint, 1 part medium. I'm not going to lie, I eyeballed it (maybe it's a mom thing).
Add a small(ish) amount of your choice of acrylic paint.
Add in half as much of the textile medium.
Pour in water. Fill it to about 3/4 full. You don't want to fill the whole bottle with water, this way you can fully mix the ingredients and you aren't watering your color down too much.
Put the sprayer nozzle on and shake until it is completely mixed together.
Test it out (I tested mine on a paper towel before I began using it on fabric).
P.S. to keep your sprayers working properly for future use, use a bottle with just water and spray until it sprays clean. This way, it isn't clogged when you go to use your spray paint in the future! Just be sure that you spray all the remaining water out of the nozzle before storing.
Time to Use Your DIY Fabric Spray Paint!
We used our homemade fabric spray paint to create our team shirts for a local Kid's Fun Run! We had our team name picked out and everything, all I had to do was play designer for a few minutes. And I love the fact that the spray paint was quick and easy to make, which made the t-shirt creation so much easier too. All I had to do was follow the instructions to make the paint, and get to work. We'll also be using these paints to make an awesome Father's Day gift for Daddy from the boys.
** Just a tip, when your paint is dry, either iron your shirt or put it in the dryer on high heat for about 10 minutes just to set the color into the shirt before washing.**
We made our fun-run shirts using diy fabric spray paint!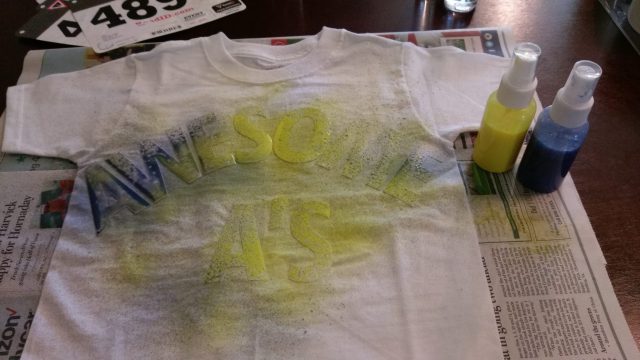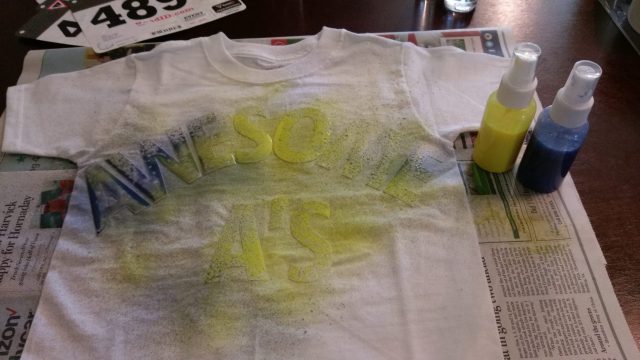 Photo by laura adai on Unsplash
Content may contain affiliate links. This means that, at no additional cost to you, we may earn a little somethin' somethin' when you use the link to make a purchase.
Learn more here.
Would you like Bloggy Moms to feature your brand?
Contact us here.