This post may contain affiliate links. Read our disclosure policy
here.
Deals are current as of date and time posted.
In our house, we go back and forth over THE BEST fajita ingredients.  Steak, chicken, or ground beef.  It really comes down to each person's overall preference.  The youngest prefers ground beef – it's easier to chew.  I love all-things-chicken.  Then there's my husband and daughter – they vote steak all the way!  Which is quite awesome, yes.
Either way – all of us inevitably fill our tortillas to an overflowing status and then make a large mess while we chat about our day and enjoy a good meal together.
The ingredient that has always caused me the most trouble has been the tortilla.  You'd think it would be the simplest item of all to prepare – but I want it perfect for each person and each serving.  It hasn't mattered how I prep it – either in the oven, in a skillet or in the microwave – it never keeps a nice heat throughout the meal.  That's even true when I've tried to place it in a container or wrap it in foil.  That usually produces a soggy mess.  So, the Nuni Tortilla Toaster was an obvious gadget for me.  I've tried so many different things – that one more thing couldn't hurt.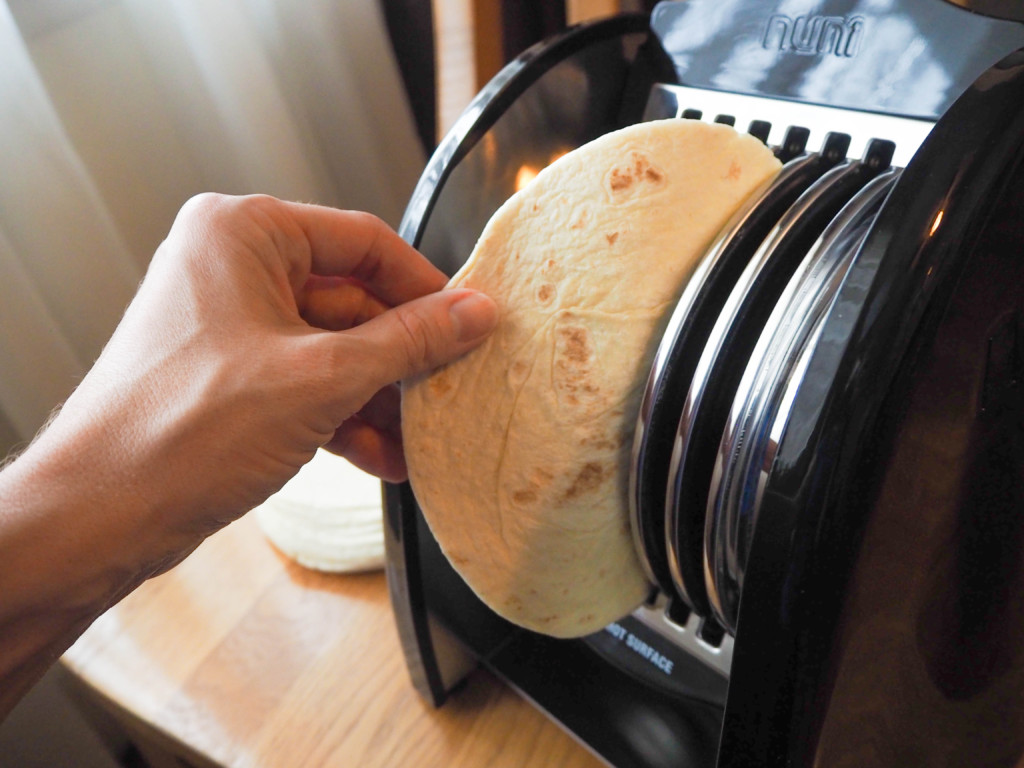 The Nuni Tortilla Toaster is the exact opposite of what I thought it would be – another kitchen-gadget that sits around and is never used.  Because come on.  How many interesting, and helpful cooking items have you purchased and used one time – if at all?
I believe that we used this toaster at least three times the first week – and at least once a week since then.  Maybe we love it, or maybe we eat a lot of tortillas?  Maybe both.  It's convenient because it allows you to toast up to 6 tortillas in 60 seconds.  So we can grab tortillas as we need them, pop them in and have a toasted tortilla in no time.
We placed the Nuni Toaster on the buffet by our kitchen table – so it was even more convenient for us.  Winning!
Tip:  We typically buy the larger tortillas for our fajitas since we like to put way-too-much in each fajita but you'll want to use 6-inch tortillas for the Nuni Tortilla Toaster.
We would have loved it if it could toast larger tortillas, but can you imagine the size it would need to be for that?  As it is, it's no more intrusive to counter space than a four-slice bread toaster.
It's also great for soft tacos – Taco Tuesday!
The Nuni Toaster comes in gray, red, white, and black.
We were provided a Nuni Tortilla Toaster for this honest review.  All opinions are our own.
Content may contain affiliate links. This means that, at no additional cost to you, we may earn a little somethin' somethin' when you use the link to make a purchase.
Learn more here.
Would you like Bloggy Moms to feature your brand?
Contact us here.