This post may contain affiliate links. Read our disclosure policy
here.
Deals are current as of date and time posted.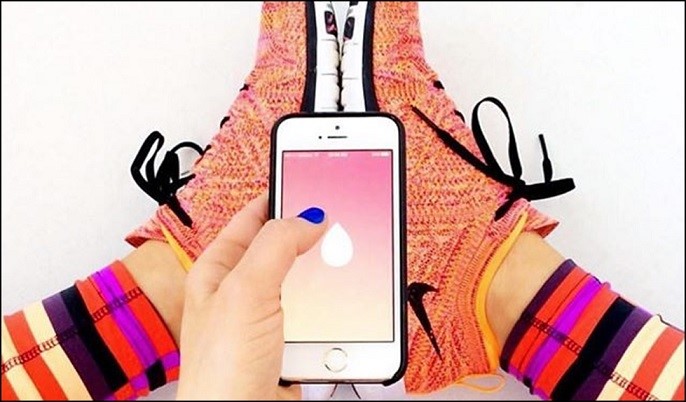 Welcome to our Sweat with Kayla Itsines Review. Here you will be provided with all the information you need to decide whether the Sweat with Kayla App is right for you!
With the wild success of Kayla Itsines' Bikini Body Program, many fans have demanded Kayla get more high tech with her program. The Kayla Itsines App allows for lovers of the Bikini Body Program, and those who have never tried it before, to be coached by Kayla through their cell phones or tablets.
Nearly everyone with a social media account has seen or heard of Kayla Itsines. With over five million Instagram followers and millions of likes on Facebook, Kayla has become an internet superstar.
Kayla Itsines App Introduction
The Sweat with Kayla App has created an online, interactive space for her army of fitness fans. Those who have completed their program using the Bikini Body Guide have used their personal success to market Kayla's latest venture.
Kayla Itsines' App has not only recognized that the majority of women need a convenient exercise, but that many women, and technologically savvy people in general, like to connect their fitness with their phone.
The Bikini Body Program's eBook only incorporates the first 24 weeks of fitness. The new fitness app by Kayla allows for the user to participate in an additional 12 weeks of exercises!
Everyone from teens to mothers have found success with the Bikini Body Program. Now an app has been created in order to make Kayla's program even more accessible.
This new app also allows for users to sign into their own personal account. Once logged in, they may choose which week they would like to begin on.
As soon as participants begin the app, it is clear that it rivals the success of the Bikini Body eBook. You are reminded of your exercises through the app and can even manage your diet in the Food section.
The app also helps women of all ages to join a fitness community where they can bond over the weight loss process.
Sweat with Kayla App Commitment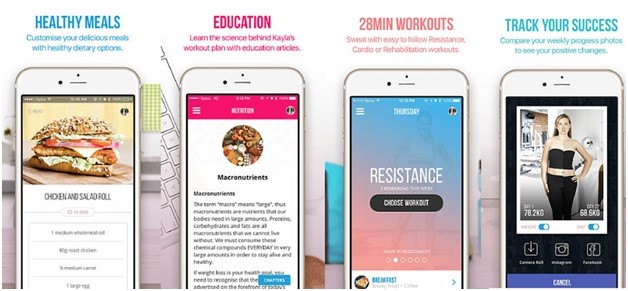 The average woman that begins with this mobile fitness app wants a program that is both effective and convenient.
Kayla Itsines' App allows for users to achieve maximum results by connecting to their mobile devices. Similarly, to the original Kayla Itsines Workout eBooks, the Sweat with Kayla App does not require users to ever go to the gym!
With the Bikini Body Guide there is no gym time required at all! Every exercise in the program can be done in your home.
The app requires a monthly subscription of $19.99. This may seem pricey to most users, but each participant is receiving 32 weeks of exercise circuits, nutrition guidance, and an interactive coaching system. For all the information you receive through the app, the monthly price seems like a deal!
If you still are not convinced due to the price, take into consideration that your health is priceless. For the cost of one dinner out, you can have a month of meaningful fitness.
Who is Kayla Itsines?
Kayla Itsines is an Australian personal trainer. She created the Bikini Body Program in order to aid the average woman in shedding stubborn pounds. Since then, she has created the Sweat with Kayla App which serves as her life coaching platform.
Kayla is an experienced fitness trainer who believes that many programs coach women incorrectly. Time with a personal trainer does not always give women the results they want. This is because many of the programs offered do not work on changing all aspects of a woman's life.
Through Kayla's programs, women are able to change everything from their daily fitness routines to their diet.
Her app works to make a healthy style of living accessible and achievable to women all over the world.
How Does the Sweat with Kayla App Work?
The Sweat with Kayla App is divided into five main sections:
Today
Food
My Progress
Education
Profile
The Today section is where you can locate all of the exercises you need to complete for the week. This section also connects to a user's calendar.
The calendar connection provided in this fitness app, helps keep participants on schedule.
The Today section is also equipped with a weather forecast. This encourages users to take advantage of good weather and take their circuit outside.
Sweat it with Kayla also includes motivational messages written by other users. This interaction within the workout community helps keep users invested in their healthy lifestyle.
The Food section is where you can find a meal planner, nutrition tips, and convenient shopping lists.
The shopping lists add further convenience to user's lives, while reminding them not to buy unhealthy treats.
The Progress section allows you to keep progress pictures and notes.
Here users can upload pictures from their camera roll onto the Sweat with Kayla App. This allows for Kayla's already existing army to see how far they have come, while continuing to improve themselves.
The Education section includes tips about exercise, nutrition and meals.
All of the information included in the Education section is present in Kayla's Bikini Body eBooks.
The Profile section keeps track of all your personal information, including your steadily decreasing weight.
How Is The Kayla Itsines Workout Like?
There are four main aspects of the fitness and nutrition program included in the app. Kayla's App includes the Bikini Body Guide 1.0 Workouts, Bikini Body Guide 2.0 Workouts, Bikini Body Guide 3.0 Workouts and H.E.L.P Diet Guide.
The Bikini Body Guide 1.0 Workouts allow for the user to first adapt to an exercise regime through a four week long pre training. Unless the user exercises regularly, this pre training period is recommended.
The 1.0 Workout also includes twelve weeks of intense training which kick start a user's journey to a better body. The 1.0 Workout also helps you prepare your body for the exercises in the 2.0 Guide.
The 2.0 and 3.0 Guide continue users on their fitness journey. Exercises differ by the week and increase in difficulty.
In addition to the workout guides, the Sweat with Kayla App is equipped with four new categories of exercise:
LISS
HITT
Resistance
Rehabilitation
LISS and HITT exercises within the app consist of cardio exercises. Resistance exercises deal with gaining strength. And rehabilitation exercises allow for users to cool down.
Not only does Kayla's App provide more exercises, it allows you to check off competed exercises, mark favorite exercises, monitor your progress, and pause or reset workouts.
As soon as you complete a few weeks of the program, you will see and feel changes within your body. Kayla recommends focusing on your progress, not the progress of others. Each body is unique and will react differently to the process.
Remember that change takes time, and nothing is immediate. Take pictures in the Progress section of app to track your work and keep you motivated! You will be more likely to stick with your routine when you can see how well it is working.
Subscribing to the Sweat with Kayla App will not only will save you money in the long run, but it will motivate with reminders to keep working.
Breaking Down the Workout Plan: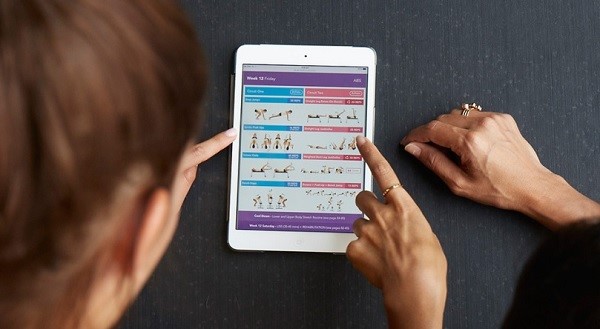 Kayla's App makes her workout plan easy to understand and commit to. The workouts appear on any tablet or cellular device, and only require thirty minutes of a user's busy day.
Each and every exercise within the app is clearly explained with both images and descriptions. A timer appears when the user begins an exercise to ensure you never spend too much or too little time on one circuit.
The differing workouts are completed in an alternating rotation.
Resistance Workouts consist of exercises like,
Squats
Burpees
Lunges
Pushups
Cardio Workouts consist of exercises like,
Elliptical
Biking
Group Fitness Classes
Recovery Workouts consist of mainly a variety of stretches.
Many of the workouts in the Sweat with Kayla App, are recycled from the Bikini Body Guides. However, there are a few new exercises dedicated users can incorporate into their already existent exercise routine.
Like the to the Bikini Body Guide, Kayla's App does require some additional pieces of equipment:
Dumbbells
Jump Rope
Medicine Ball
Bench (chair or table can be substituted)
If you do not have the space at home, or the budget to afford the equipment, take your workout to the gym! Kayla's App allows your workout routine to be completely mobile and easier than an eBook to use in the gym.
The Diet Plan:
The H.E.L.P Diet is designed to go hand in hand with the workouts provided. Nutrition advice and planning material is present in both the Food and Education section of Kayla's App.
Within Kayla Itsines' App, there are two full weeks of planned meals along with their recipes. There are a variety of substitutes offered for those with dietary restrictions or users who are looking to change things up.
Sweat with Kayla Itsines App Review Conclusion:
Millions of women worldwide have had success with the famous Bikini Body Routine. The app was highly anticipated and has been downloaded thousands of times.
However, a great deal of information is recycled from Kayla's eBooks.
The Kayla Itsines' App makes working out and eating healthy something that the user is constantly aware of. Both reminders and communal support work to keep users committed to their new lifestyle.
Not all members of Kayla's fitness army have been pleased with the new app. Those familiar with Kayla's pervious work desired fresh material that could be permanently purchased. With Kayla Itsines' App, the material, and all of a user's hard work, disappears if the subscription runs out.
Aside from the minor flaws, the Sweat with Kayla App can be a valuable tool for women looking to lose weight.
The Kayla Itsines app provides a home base for women to track their progress, learn new exercises, achieve a balanced diet, and communicate with other women looking to become healthier.
Content may contain affiliate links. This means that, at no additional cost to you, we may earn a little somethin' somethin' when you use the link to make a purchase.
Learn more here.
Would you like Bloggy Moms to feature your brand?
Contact us here.