This post may contain affiliate links. Read our disclosure policy
here.
Deals are current as of date and time posted.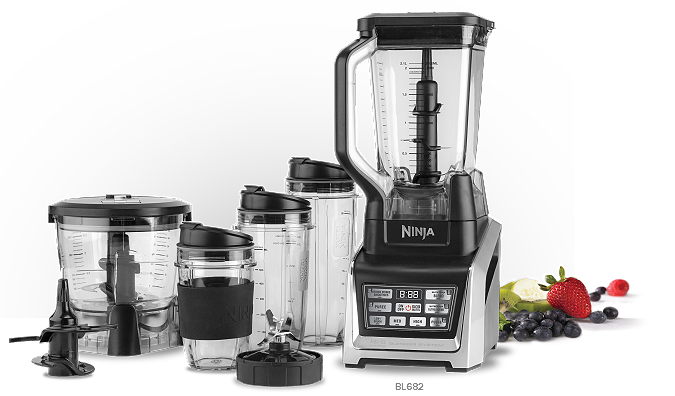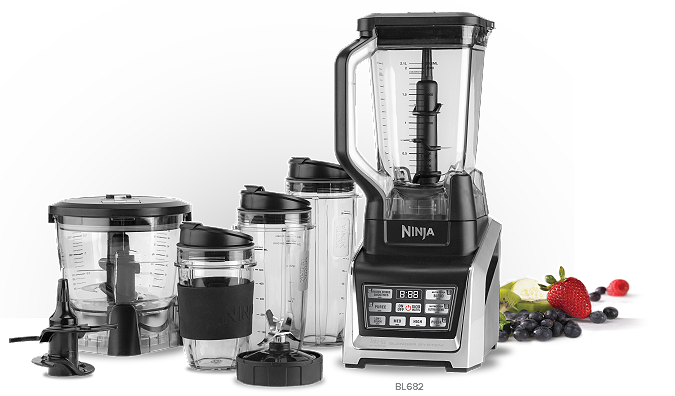 We've had to begin replacing several items in our kitchen lineup. We're checking out a lot of different products like pans, blenders, knives. Recently, we overworked our humble little blender and it quit on us. We asked it to make too may shakes, smoothies and cold-coffee drinks. I think that we had received it when we were first married over a decade ago. So, I guess it had a good run and now we needed a new blender. Every time I would visit the store determined to make a purchase – I would change my mind and return home empty handed. I just didn't want to put time and money into a blender that wouldn't last through all of the work we needed out of one. We needed something durable, strong and efficient. It needed to blend shakes while still leaving them thick but still be powerful enough to crush ice. In a way, we needed it to be intelligent enough to just read our minds and know what we wanted it to do. Also, I needed a new food processor as someone (me) accidentally dropped mine down the stairs.
The Ninja Blender System with Auto-iQ seemed to be our answer. It sounded great and has quite a list of impressive features. As we unpacked the box, we quickly realized that this was a heavy-duty, serious business blender!
Auto-iQ
Auto-iQ™ programs do the work for you—there's no more need to shake, stir, or mix. Simply select your favorite Auto-iQ™ program and in seconds you're ready to Jump-Start your day!
This was important to us as it eliminated the guess work. Our previous blender had a handful of buttons which we randomly used but were never sure when to use which button or how long to hold it down.
Nutrient and Vitamin Extraction
Ninja® Auto-iQ™ Technology combined with Pro Extractor Blades™ and Ninja® power break down whole foods, ice & seeds for maximum nutrient & vitamin extraction in the Nutri Ninja® Cups.
We loved this added benefit! Not only are we wanting foods and drinks that we can enjoy – we also make an effort to intake the right nutrients for our bodies which includes a lot of fun homemade smoothies and juices. The Nutri Ninja uses the same base as the blender and we can use either attachment seamlessly which helps to keep clutter down while still enjoying several appliances in one.
Smoothie Recipes We Love:
Healthy Fruit Smoothies: 35 Low Calorie, Healthy Smoothies
Chocolate Green Smoothies and Other Green Smoothies That Actually That Actually Taste Good
Superfood Smoothies: 100 Delicious, Energizing & Nutrient-dense Recipes
Precision Processing
You do not need to be a seasoned chef or a skilled knife handler to prepare delicious meals. Our Auto-iQ™ Pulse setting delivers timed, consistent, precision chopping so you never have to worry about over processing. Get even, consistent chopping and mixing results, every time. The precision processing function is great for quickly chopping vegetables for soups or to top salads, making food prep easy!
The processor that someone (me – I'm always dropping things) dropped down the basement stairs and completely destroyed was older and a little temperamental. It seemed a bit sluggish and I'm sure I never used it correctly. The Ninja has spoiled me and now I don't feel so bad for dropping my food processor. The pulse was amazing for creating delicious treats, dips and truffles this holiday season! It also had a blade for my dough!
I love that we were able to get so much usage from our Ninja Blender set. However, if you don't need all of the accessories you can find a set the fits your kitchen and lifestyle. Check out the Nutri Ninja Blender Duo with Auto-iQ here.
We received this product for review. All opinions are our own. This post contains affiliate links. Would you like to have your product reviewed on Bloggy Moms or by our influencers? Please contact us here.
Content may contain affiliate links. This means that, at no additional cost to you, we may earn a little somethin' somethin' when you use the link to make a purchase.
Learn more here.
Would you like Bloggy Moms to feature your brand?
Contact us here.